This "Voices of Inspiration" series allows me the pleasure of interviewing someone that I have personally found to be an inspiration, and who is doing admirable work in the world to inspire a rise in the consciousness of others. This month, I am thrilled to feature Bestselling Author, Menna van Praag. I had the honor of meeting Menna while attending her writing workshop at the Mind Body Spirit Festival in London in May. Her debut novel, the largely autobiographical Men, Money, and Chocolate, resonated deeply with the messages in my own memoir in regards to overcoming fear, never giving up, and following our dreams. I was delighted to discover that our similarities didn't end there…in addition to our passions for writing, spirituality, and chocolate, she is also a lindy hop dancer! Menna shared that lindy hop dancing has been one tool to help her get out of her head and access deeper joy from within…although, with her consistently radiant smile and glistening childlike eyes, it is apparent she has other tricks up her sleeve as well.
I have found Menna an inspiration in a number of ways. Not only did she not let rejection after rejection deter her from reaching her dream of becoming a bestselling author, but it became quickly apparent while attending her workshop that after all of her success, she remains a humble student of life. Though her role was that of teacher, she was eager to learn from everyone in the room. A lot can be learned from her curiosity and lust for life, and I am grateful for the opportunity to have been one of her students.
And now, meet Menna. I am confident she will inspire you, too.
Rebecca Pillsbury: Was there a defining moment in your journey that inspired you to make a dramatic shift in the way you approached living life and following your dreams?
Menna van Praag: I've had several and will, no doubt, have many more. When I was twenty-eight (following a personal crisis) I was sitting in the garden with my mum (Vicky van Praag, an amazing life coach) and we were having one of our inspiring talks about life, the universe and everything. And that was when the inspiration hit. We were wondering why we had experiences of enlightenment then dropped back into fear and negative thinking. And those three words dropped into my head: Men, Money & Chocolate. Thinking that external things: romantic love, wealth & physical pleasure, will make you happy is what takes you away from internal fulfillment. After that I discovered two other fantastic life coaches: Ariel & Shya Kane. I've been doing their workshops ever since and it's absolutely transformed my life, over and over again.
 RP: You have shared that your first manuscript was rejected many times before you decided to self-publish. What would you say the key ingredients were to pushing through the disappointment and maintaining belief in yourself and your manuscript?
MvP: Funnily enough, it was the advice in that very manuscript that helped me to keep going through all the rejection and disappointment. MM&C was very autobiographical, but the last third of the book only came true after I wrote it. The heroine self-publishes her book and, after reading that, my mum said: "ah, now you have to do that!" At first, rather terrified, I absolutely refused. Then I realised she was right. I continued to be scared, but I kept going, taking the books to bookstores across England, baking chocolate flapjacks and asking them to put my books in their windows… the rest is history.
RP: What would you say to someone that is just about to give up on their dream?
MvP: Read Men, Money & Chocolate!  OK, so that's a shameless plug, but actually it's such a perfect book for pursuing your dreams. Call my mum. Attend a workshop with Ariel & Shya Kane. Any or, preferably, all of those.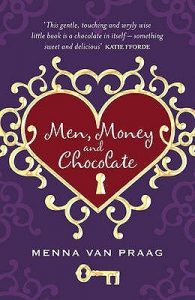 RP: I love how you incorporate self-help and spiritual guidance into your novels. It can be scary sometimes to raise the topic of spirituality, especially when done in an autobiographical way, as your first novel does. Have you received any negative feedback from readers that have different views about the world than you, and if so how do you handle it?
MvP: Yes, I did initially find it scary. And yes, I do receive negative feedback. And, as someone who wants everyone to like me, I do find that a little challenging. But then I believe that's my own spiritual path: to care less about what people think of me. When it happens I try to understand that person's perspective and I try not to take it personally – I don't always manage it at first, but hopefully one day I'll take it in my stride.
 RP: You once mentioned in an interview that you see one's spiritual path as being "vertical," in which enlightenment is not a place we eventually reach, but rather an experience that is continuously available to us. What are ways in which you practice opening your heart and your mind to experience moments of enlightenment on a more consistent basis?
MvP: Attending Ariel & Shya's workshops. Listening to their radio shows. Going on their Costa Rican Transformational retreat every year. I've experienced that enlightenment/happiness/joy is a minute to minute, hour to hour, day to day choice. I believe that you experience enlightenment rather than attain it. When you're living instead of listening to your thoughts, you experience it. The moment you start believing those thoughts again, you lose it. But the more you practice presence, the easier it gets.
RP: I know that you are spreading joy and inspiration throughout the world in more ways than just through your beautiful books. Can you tell us about some of your other professional endeavors?
MvP: Thank you. Yes, I also teach. I call myself a creativity consultant, since I combine spiritual principles with practical writing advice. I adore doing workshops and one-to-one classes. I also do a monthly call with writers which is a lot of fun.
RP: Men, Money, and Chocolate shares an all-important theme with Finding Ecstasy: chocolate! What is your favorite kind of chocolate, and where can it be found?
Ah, that's a very difficult question! I travel quite a lot and always taste the chocolate everywhere I go, so I have many favourites. However, if pushed to choose, it'd have to be the chocolates in Melt on Ledbury Road in Notting Hill – absolutely ecstasy!